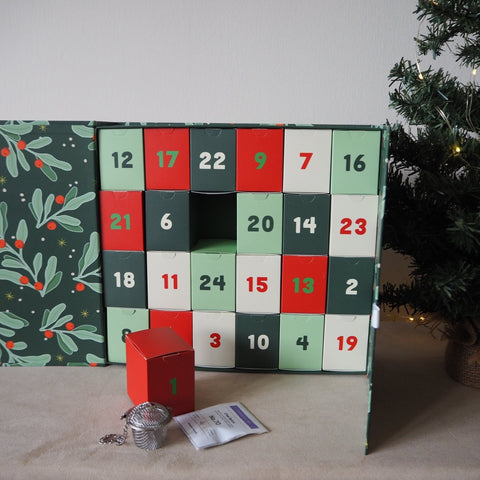 Tea Advent Calendar
The 2023 Teaspoon Tea Advent Calendar
Back and even better than before, the Tea Advent Calendar brings the excitement of the festive season with 24 different loose leaf teas to enjoy every day.  
Each day as you open a new box, you'll discover a loose leaf tea that will transport you to a world of flavours and aromas. From the comforting classics to exotic surprises, our tea advent calendar is designed to delight your senses and elevate your tea drinking experience!
Excitement: Open the doors to find 24 numbered boxes with a packet of loose leaf tea inside. Each day you'll have enough tea for 2 cups, great to share or enjoy throughout the day. Behind door number 1 is the first tea and a metal cup infuser.
Variety: Explore a wide selection of teas, from regional black teas and green to herbal infusions and flavoured blends. Whether you are a tea connoisseur or just starting your tea journey, there's something for everyone.
Festive box: The calendar is adorned with Christmas inspired artwork, making it a perfect decoration for your home or a thoughtful gift for a tea loving friend or family member.
Premium quality: All the loose leaf teas are of the best quality, ensuring exceptional taste and aroma in every cup. 
Sustainable and eco friendly: We are committed to sustainability and our tea advent calendar is designed with the environment in mind. The packaging is recyclable or can be reused again next year.
Surprise and Delight: The element and surprise add to the excitement of the Christmas preparation. Enjoy a new tea experience every day.
Make this Christmas season unforgettable with our tea advent calendar. Order yours today and embark on a daily tea tasting adventure.
This tea box contains NUTS (Almonds)
How to brew your tea.
1 teaspoon of tea per person.
Place in an infuser teapot or cup infuser.
Pour over hot water.
Leave to infuser for the time stated on the packet.
Remove infuser.
Add milk or sugar if desired
Sit back and enjoy you cup of loose leaf tea.
Eco friendly packet
The packets are resealable and will biodegrade.
Packets can be used to refill your own tea caddy.
How many cups of tea per packet?
This is a rough guide as the tea varies in weight. Tea is measured by a standard teaspoon which hold around 2-3 grams of loose leaf tea.
50g packet = 15-25 cups
100g packet = 30-50 cups
200g packet = 65-100 cups
500g packet = 160-250 cups
Have a read of our blog here